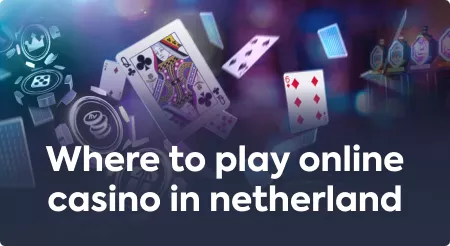 It took a while, but the online casino market in the Netherlands has finally opened its digital doors. But which Dutch casinos can a player easily play casino games in? We give you a list of online casinos that you can now visit to enjoy the full casino gaming entertainment services they offer to their customers, including offers and promotions.
The new gambling law came into effect on 1 March 2021, allowing providers of gambling games and sportsbooks to submit a license application to the Dutch Gaming Authority (Kansspelautoriteit, "NGA") to offer their services digitally as of 1 October 2021 legally. The NGA previously announced that it had received more than fifty applications for a permit. But the conditions for actually getting a permit are pretty tough. For example, applicants must pay an application fee of €48,000 for the application to be considered. If the application is rejected or refused, there will be no refund. That amount is the highest in the world, but the watchdog wants to filter out the unserious or shady companies with it. These companies must also show what they are actively doing in the field of gambling addiction prevention and what measures they are taking against money laundering. The intention of the gambling law is to push players from illegal providers to legal, reliable providers.
The NGA then starts the so-called inspection, during which it examines, among other things, whether an applicant is doing enough to prevent gambling addiction and whether it is a healthy company that handles player funds responsibly. Also, every approved casino must have a branch in the Netherlands, with which it also pays tax to the Dutch tax authorities. The permit will only be granted once this investigation has been completed.
BetCity
There was no doubt that the Dutch BetCity went for a license. The company's CEO, Melvin Bostelaar, already runs five land-based casinos in Amsterdam and is eager to conquer the internet because he has been working on these plans for much longer, also via DailyOdds and VoetbalPrimeur.nl. In 2013, it was announced that BetCity would team up with online gaming platform Tain to storm the Dutch market in 2015, but it was postponed due to legislation issues. In October 2021, the company launched its online gambling platform for Dutch players called BetCity, with attractive casino offerings for its users.
bet365
The well-known British gambling brand Bet365 is only one of the few global European parties already eligible for a license. This is because the company has proven itself as 'the best boy in the class. Previously, the online casino was active in the Netherlands, but the company withdrew as soon as the Gaming Authority indicated that it would fine foreign casinos if they were not properly registered and licensed in the Netherlands. They offer a wide range of table games, card games, live casino games.
Experts already predicted in April 2021, after the NGA announced that 28 applications had been submitted, that Bet365 would pass the strict selection of the Gaming Authority. It turned out to be accurate, as they are now able to offer their services in the Netherlands and can now be regarded as one of the top online Holland Casino sites.
Kansino Casino
The ambitious Maltese company Play North Ltd has been online in the Netherlands with Batavia Casino. But has now changed its name to Kansino Casino.
Play North Ltd started a year ago by setting up an online casino that could legally be online on the Dutch market: Batavia Casino but changed to Kansino due to trademark rights.
When you add up their experience plus their vast casino gaming library, it's not surprising that Kansino Casino has been able to provide top class casino gaming entertainment to Dutch players, offering numerous deposit bonuses like credit/debit card, wire transfer, table games, online pokers, free spins, and multiple deposit and withdrawal options to dutch players.
Holland Casino Online
As you undoubtedly expected, Dutch casino pride is present. This, of course, has to do with the fact that the state casino has been feeling the hot breath of digital competitors for years. According to the CEO of Holland Casino, Erwin van Lambaart, the digital gambling market will yield 600 to 800 million euros annually in the Netherlands, so there is a lot of money to be made.
In 2013, the company announced that it was partnering with software supplier PlayTech to use its digital iPoker network. Because the legislation did not pass, the casino's entry was postponed. Now that the time has come, the company is up and running. Together with PlayTech, Holland Casino Online has developed a ' live casino ' in Scheveningen, where it can be reached daily from 12:00 to 3:00 am with its own live dealer or croupier. At Holland Casino Scheveningen, you will experience a complete evening out. Experience the thrill of the game and enjoy a wide and diverse range of games. In addition to well-known table games such as American Roulette and Black Jack, they also offer an extensive range of the latest online gaming machines. In addition, it is available 24/7 via the PlayTech online gaming network.
Is Online Gambling Reliable?
Online gambling can be called reliable if you keep a close eye on a few things. There are plenty of legal, certified, and controlled online gaming casinos and gambling websites, but vague websites will happily rip you off your money before you even know it.
A quick look at the website to see if it's a safe URL or if they claim to be legal is not enough. You usually give sensitive information to a website like this, such as personal information and payment information. So take a moment to check a betting site you don't know about a few factors to make sure it's reliable.
How do you recognize reliable online gambling sites?
You can recognize a reliable gambling website by several things, especially the footer section of an online casino games site, which often contains important information about the gambling site operator at the bottom of the website.
The better online casinos offerings usually have the following information in their footers:
Whether they have permits and licenses and thus comply with the regulations for the provision of online gambling
Whether they use certified play software
The deposit and withdrawal methods they offer
The website ownership information, who owns it, contact information
The general terms and conditions and information about the protection of your privacy
Warnings against excessive gambling and information on where to seek help if you suspect gambling addiction
An online Dutch casino must meet many conditions to be allowed to work legally. If they comply with these requirements, you can assume that they will report this extensively. If you do not find this information indicated on the website, that's a red flag already.
Below is a more extensive overview of characteristics that you can recognize in a legal online casino:
A legal gambling website must have a license certificate.
Any legal online casino, live casino, or gambling site must have a government license certificate, no matter what country. That is mandatory, and some governments have stricter requirements than others. This license proves that the operators of the gambling sites are not illegal. Most list their acquired licenses and license numbers on the website, and they often even have a separate page with their license certificate and other certificates they comply with.
If they don't make it public or have a license, ask for it if you don't trust it. Legal casino websites have nothing to hide, and they even prefer to be transparent about their affairs. Note: if a gambling website has a logo or link in the footer that says they have a license, click this link too and see if it works. Anyone can paste a picture in the footer!
Check which payment methods the casino website uses.
Another good way to check whether a gambling site works legally is to see which payment methods they accept on their platform. Major parties such as PayPal, Skrill, and Neteller will not want to identify themselves with fraudulent casinos or untrustworthy sites. Do websites work with vague payment methods? Do not deposit or use their services!
Illegal casino websites often do not make it easy for you to withdraw your winnings. For example, it takes a long time, or they charge huge commissions to try and discourage you.
Check the game providers.
Each gambling site runs on special software made for casinos and games. This software has been developed by companies that are also checked by governments, etc., for irregularities. This is important because you often have to use this software on your computer and also trust them with your funds and data. You don't want to give malicious people access to your computer, so be careful with that too.
In short, the software these gambling sites use can indicate whether they work legitimately or not. Software from companies such as Microgaming, Playtech, and Evolution Gaming is known for being legal and reliable. There are several companies and parties that work with this software. So check the software they use if you're not sure. Otherwise, do not register on such an online casino site.
Most gambling sites also offer an app that you can download on your smartphone or tablet. But there are plenty of gambling sites where you can opt for 'instant play,' so you play directly on the website. So you don't have to download any software if you'd rather not.
View ratings and reviews of the gambling website
Reviews and ratings are also handy for checking whether an online casino is doing well. Online casinos and gambling websites that have no good intentions will do their best to hide negative reviews and ratings. In addition, they will not ask for a review. Do not rely solely on positive reviews because it is also possible to have fake reviews posted. So relying solely on positive reviews is not a good thing to do.
Be careful with free offers and bonuses.
One of the means that illegal casinos use to lure you as a player is to offer huge deposits and sign-up bonuses. Be careful with that. Also, check the casino in question for all the other factors above to avoid registering on a casino site that has other plans with your hard-earned money.
Check if the online casino or gambling sites are on the blacklist.
There is a blacklist of online casinos and gambling websites that you do not want to deal with, as they are often blacklisted for having been involved in vague transactions and other issues before. You often also see that the names of ambiguous gambling sites resemble those of their reliable colleagues. A quick Google search yields enough lists of unreliable gambling websites.
So do not rely on an excellent website with attractive offers; check the site on several of the above points to prevent you from losing money to fraudulent casinos and scams.
Advantages of online gambling
The most significant advantage of online gambling is that you can play online casino games at any time of the day when it suits you. You don't have to put on your tuxedo; you don't have to leave your house or your bed, and the online casino is always open!
The offer on a gambling site or online casino is also much larger. For example, you can play all kinds of poker and blackjack, and the side bets you can make are much more extensive. There are also all kinds of bonuses or free spins to be won.
There are multiple limits for every budget. Don't feel like spending too much money, just want to play and enjoy the moment? Then you can be happy all evening for a few dollars. Many sites also allow you to play for free.
Because online casino games also have lesser costs, since they do not have to pay for a building and much less staff, the payouts are often higher. Indeed, the online slot machines have a higher payout percentage than that of a land casino, up to 98% payouts with slots.
The disadvantage is that it has much less glamour, and you don't have the live thrill of gambling with the people around you who also enjoy a luxurious casino night out with a snack and a drink. You will also receive your winnings immediately in a casino, at an online casino that usually takes a little longer. So opening that expensive bottle of champagne when you win will have to wait a bit longer!
Is online gambling in the Netherlands legal?
Online gambling is legal for a few casinos in the Netherlands. In the Netherlands, all the Toto (sports competitions) and ZEturf (harness racing and horse racing) were allowed to offer online betting participation. Foreign casinos must ensure that their services are not accessible from the Netherlands, and they do this by blocking Dutch IP addresses.
Therefore, online gambling in the Netherlands is legal only for licensed casinos, and at the moment of this writing, only a few are.
Rate this article:
Publication date: April 18, 2022
Author: Thomas Combs