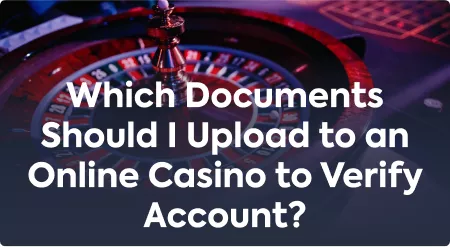 By established rules and regulations, most online casinos require players to verify their accounts before proceeding with monetary transactions. In that sense, many online casinos have established some guidelines to make it easier for new users to verify their identity once they have completed their online casino site registration.
Before starting the verification process, you will first need to register as a new user on any online casino where you'll like to play your favorite casino games.
The registration button will take you to the registration page, where you will have to enter your personal data. Remember to correctly indicate both your name and surname as well as your telephone number or email since this information will be used for subsequent verification.
Now, once you have registered at the online casino of your choice, you can proceed to verify your identity, which will allow you to deposit money and withdraw your winnings.
HOW TO VERIFY A NEW ACCOUNT AT ANY ONLINE CASINO
The verification can be carried out at any time, being mandatory to do it before making a withdrawal of winnings or profits or if you plan to deposit. To verify your account, most online casinos will ask you to upload some or all of the following documents in order for your account and identity verification to be processed:
A copy of the player's driver's license or ID
A copy of the player's passport
A copy of the player's utility bill showing the name and address
A copy of the player's recent bank account statement with the name and address
Online casinos may also require confirmation of your payment method. So you may have to provide a photo of the credit or debit card you intend to use. This photograph must follow the same rules: with all four visible corners and legible data. But if you have used a bank account instead of a credit or debit card, they will ask you for a bank status document. And suppose you use electronic wallets like PayPal, Skrill, or Neteller. In that case, you must attach a screenshot of your profile or account information, with your name and address matching the details you inputted at registration.
Therefore, the identity verification process aims at proving the player's honesty, avoiding identity theft, improper access by minors, or possible fraud attempts that may be caused to the online casino operator.
Another benefit of verifying your casino identity and account is that some online casinos offer bonuses for verifying data on their website. These bonuses are usually some extra money you can gamble with, which never hurts.
Lastly, the most important reason to verify your casino identity and account. Without verifying your account, it is very likely that you will not be allowed to withdraw your winnings from the casino. This may also seem like an inconvenience. However, knowing that no one but you can take the money makes it worth completing the casino verification process.
Each online casino is free to request the documentation it deems appropriate to ensure the protection of its customers and profits. Do not be reluctant when submitting the requested information, as most online casinos are usually quite reliable and ensure the confidentiality of their users. Yes, you probably have heard numerous times that you become more vulnerable by giving out your personal data, but the opposite is true. The more ways a casino has to verify who you are, the safer you will be when it comes to betting and withdrawing your winnings. Now that you know better, don't stress or worry about it anymore; verify your account before you start betting and get ready to hit the jackpot.
Rate this article:
Publication date: April 30, 2022
Author: Thomas Combs